Today's planner post is a little different from normal. You've actually already seen the spread I'm about to show you (if you read my Year of Planners post that is). I'm going to be focusing on the stickers more in this post and give my opinion on them – a review, if you want to call it that.
     Up until the spread in this week, I'd been using free stickers that I'd printed on sticker paper and cut out. Cutting out the stickers can be a bit tedious though and I did want to give bought stickers a shot, so yes, while I should do saving my money and trying to cut costs, I did go an spend some money on stickers!
     I found PrettyCraftyStickers on Etsy, and fell in love with her shop and so I knew I had to give these planner stickers a go. For my first purchase of stickers, here's what I bought: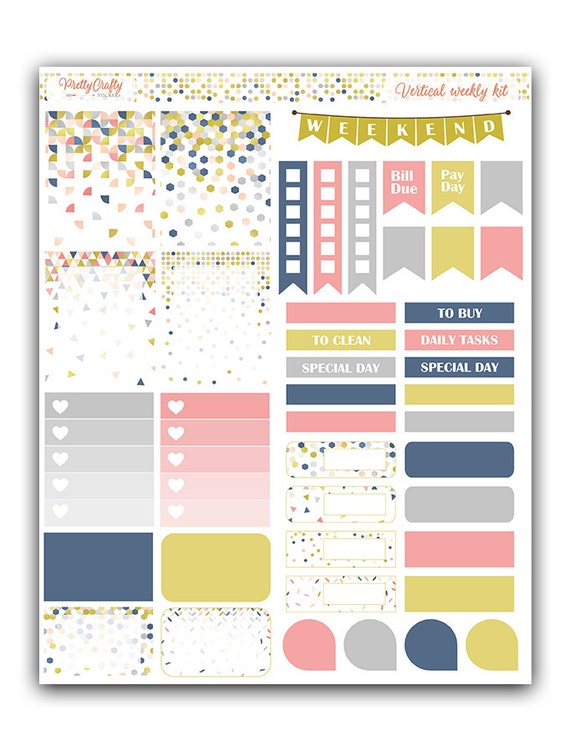 As you can see, I picked up three weekly kits, a set of weekend stickers and some useful icons.
     The kit I used to decorate week you see above was the Geometric Confetti Weekly Kit. It falls under the Mini EC Weekly Kit section of her shop but there's quite a lot of stickers in the set (which costs €3.50). I used about half of the kit for my week so if I don't want a heavily decorated week I can actually get two weeks out of the one kit.
     Anyway, I wouldn't usually go for these colours and shapes but I bought this kit because they seemed very fitting for my planner. I also bought a selection of rainbow icon stickers (mail, laptop, planner and lazy day ones) for her shop and I used those as well for this week. Oh yes, I also bought a sheet of mason jar stickers. I didn't need them, they're just really cute.
     These being my first bought planner stickers, I can't compare them to anything else but I do like the quality of them. I'm not too sure about how the price compares either, like I said, this large sheet of stickers that I bought costs €3.50. PrettyCraftyStickers is an Irish based store which is great for me because it means when I order the stickers, I get them pretty quickly. She also has offers on shipping and discounts frequently so that's something to consider, especially if you're outside of America – I know a lot of the bigger planner sticker shops are American and for some reason postage of one sheet of stickers from America to Ireland is listed as being over €12 so I'll never be getting those!
     Overall, I'm happy with my sticker purchases and I do like just being able to grab my planner and a sheet of stickers to start planning – it's so much more relaxing when you don't have to cut out all the stickers yourself!
     I even got a few free sheets of stickers which is lovely – I especially like the thank you for your order sheet which handily comes with a sticker so you can remind yourself to re-order your stickers!
     I did actually end up making a reorder because I found a few extra stickers that I figured I really, really need – some birthday ones, some period tracking ones and of course some love tea time ones!
     After buying these stickers, I also made a small…much smaller purchase…from SmallStuffCreations on Etsy. For anyone who hasn't come across this shop before, they sell really, really small planner stickers. For size in use, they're the letter and pen on the snail mail section on the right hand page of my planner. Pretty small!
     Like I said, these stickers are tiny but they're only €1.08 per sheet and if you have a small planner, these could be really useful for you! It's a UK based store as well so the post and package is a really reasonably price – again, always a huge bonus! I do enjoy using them and they're a nice thing to have in my sticker folder. I think the size of these stickers is especially useful if you either have a pocket size planner or else use your monthly section to plan. I've found them useful when I have a header for my lists, such as a craft list or writing list, and I want to add something to it. They're a good size for that in regards to my planner.
     Anyway, that was my foray in the realm of planner stickers. These two stores are all I've bought from so far. I really like both of them and I'll be ordering from them again at some point I'm sure. If you know of any good planner sticker shops that you think I should check, do let me know! I do love browsing online shops for goodies I spend what little money I do have on.