Hey guys. It's Monday so it's planner post day and I have a few weeks of spreads to catch up on so let's bypass the chit chat and jump straight into it.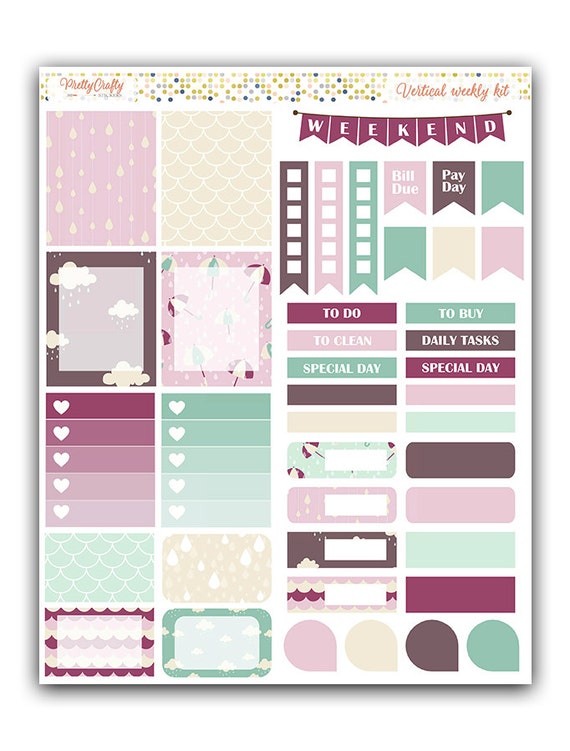 For this spread I used the Purple Rain set of stickers by PrettyCraftyStickers on Etsy, along with a selection of rainbow icon stickers and miscellaneous stickers from her 'thank you' sheet.
     It's a little busy but I liked how the week turned out. I ended up using more stickers than I had initially planned, half the weekly sheet and a lot of those small stickers, but I think I get away with it. I was decorating this week the day after my dog passed so I was using my planner decorating to take my mind off it and it worked.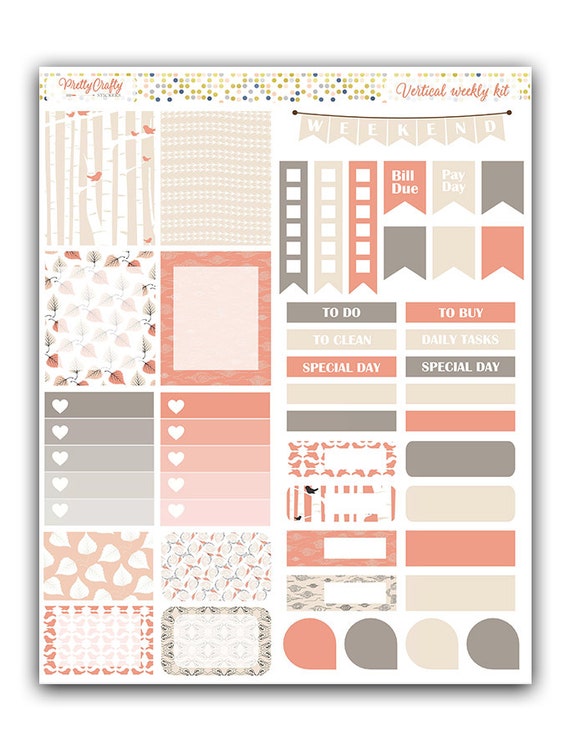 Next up is the woods inspired sticker sheet, again from PrettyCraftyStickers. I really liked this sheet of stickers. I think it's my favourite of the three I bought. For this week, I set myself the task of using as many of the stickers as I possibly could and I succeed! I think I used all but five or six of the stickers.
     There's a lot more stickers on this page then the previous week but in a way it doesn't look as busy. I think it's because of the lighter colours. I know these stickers are an autumn set really but sure, who says you have to stick to the seasons! Like I said, this is my favourite of the three weekly kits I bought.
     And finally, catching up, I present last weeks spread to you. I ran out of sticker kits! I'll have order some more at some point. In the meantime, I tried out a new technique for planner decorating – I got my glue stick, a scissors and a paper pack and set to work. It is a bit more time-consuming because you have to cut things to size and inevitably I get that wrong because I just eyeball it rather than measure, and it's messier when there's glue involved, but you get results you likely wouldn't get with planner stickers.
     I had a few of the page markers left over from the previous weeks sticker sheet so I used them up. They tied in nicely with the paper pack I chose and there was a 'weekend' banner in just the right colour too that I had. I'm happy with the result and actually, see that flower sticker top right? That folds up to reveal my weekly tasks! Clever and neat looking. I wouldn't want to be decorating with paper every week because I like the idea of just grabbing my planner and sticker folder and moving to the couch while this way requires me to be at my desk, cutting and sticking, but I don't mind doing this every now and again to mix things up.
      So that catches you up with my weekly planner, hope you enjoyed seeing my weekly spreads. How do you decorate your planner, do you use stickers? Which of my weeks here was your favourite?