Hey guys. I did have something else planned for today's planner post; I was originally going to write about cheap ways to decorate your planner but unfortunately, over the weekend I found myself with a cough that kept me awake and sucked the energy out of me. I'll try get that post written up for next week but I won't leave you without a planner post – here's my weekly view of last week: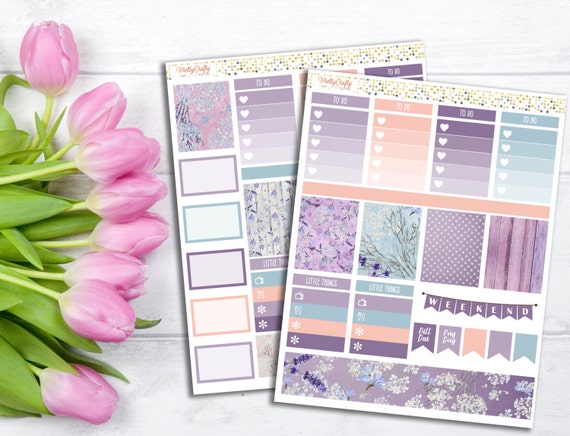 It's purple with a little bit of pink. I used the same lavender fields sticker kit that I used for my monthly view of July. It being a kit designed for a 'no white space' spread in an EC planner, there's a lot more stickers in the kit, especially check lists and decorative boxes, so I went a bit heavier with the sticker usage this week!
     My boxes are obviously a lot smaller than those in an EC planner so I have to cut the decorative stickers to size (luckily they're the same width to it's not too much hassle). Waste not want not though! I used the small cut off pieces as well in the Monday and Wednesday boxes.
     The note section on the right page looks quite busy and, well, that's because it is. No way around that – I have three things going on here: daily to-do tracking, snail mail and messages tracking and things to buy. The note section has a grid pattern which makes it easy to divide up and especially to draw the grid. I'm still playing around a bit with what I'm tracking and still working on what language tasks I want to do so this is the section most liable to change.
     And that's that for my weekly view. If you really pay attention to my photos, you might have noticed the dividers along the side are a little different to normal. I've been doing a little rearranging of my planners but I won't go into that now, that's a topic for another day!