Hey everyone, how's it going? Hope you're all doing well. I have something a little different for my planner post today  – rather than show you my weekly spread, I thought I'd spend some time taking a look back at some old spreads. In this case, all the spreads came from one sticker kit. Yes, five spreads from one sticker kit – I like to get as much out of a kit as I can!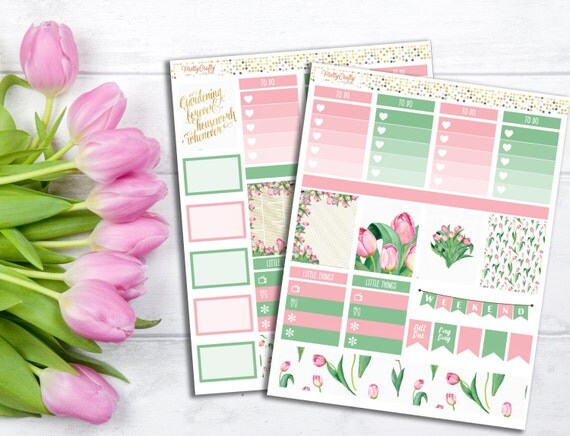 This is a 'no white space' weekly sticker kit for the EC planner that I got from Pretty Crafty Stickers on Etsy. Unfortunately, that seller doesn't do these specific kits anymore but you can get similar kits from many sticker shops on Etsy. This one consisted of three large sheets of stickers and cost me €10.50 which is pretty cheap. I typically find these kinds of kits for between €12-18. As I said, this kit was on large sheets but if the sheets are smaller, the stickers will be on six sheets. If you find a kit like that, that's the same as this one.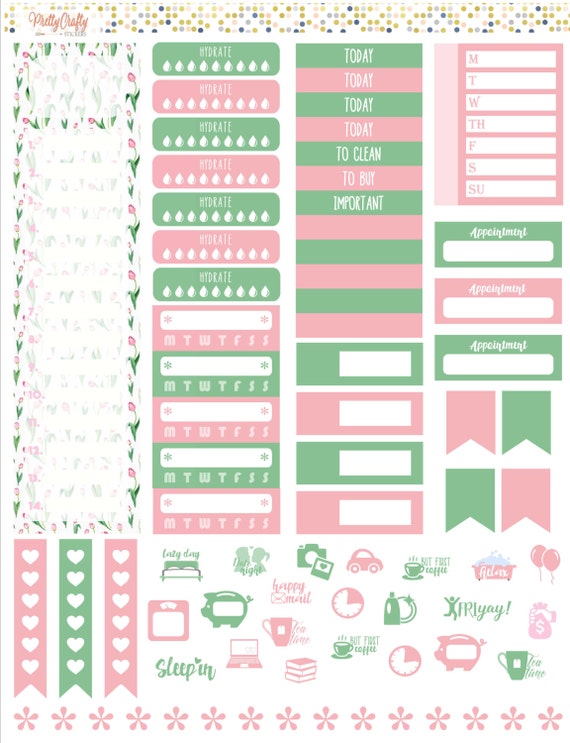 Okay, so these stickers are designed for the EC planner which is a fairly large planner. Obviously, my Filofax is much smaller so straight away, that helps me get more weeks out of a single sticker kit. If you used one of these in an EC planner, you could easily use most if not all in a single week but that would be a very expensive week for you! If you spread your stickers out a bit more, you'd easily get two or three kits from the one sticker kit. For me, because of my small planner, even though I decorates the pages heavily, I still got five full weeks out of my kit (even with a few stickers to spare) meaning that if I only paid €10 for the kit, each week cost about €2. Now, that's still not the cheapest way to decorate a planner but it's a lot better than €10 for one week!
     But enough of that talk about spreading stickers out to save money – do the pages look any good? Well, here they are:
     This was the first week I decorated using the kit and as you can see, I wasn't exactly stingy with the stickers, using several of the check lists and many of the icon stickers that came with it. Week number two went similarly:
     All of the stickers used came from the kit except for the weekend banner as the sticker kit only had one weekend banner in it.
     I did go a little easier on the stickers for week three just to have a cleaner looking week:
     Again, I used a weekend banner from a sheet of banner stickers as the kit only came with one. I also used icon stickers from separate sticker sheets but the decorative stickers and check lists are all from that sticker kit.
     As if to make up for week three and to prove I wasn't running out of stickers, I get a bit more sticker heavy for week four:
     Again, the icon stickers and banner sticker are from separate sticker sheets but the tulip sticker kit had plenty of decorative stickers and boxes to use.
     And yet after using all those stickers, I still had more!
     I'd ran out of the large decorate box stickers to use but there was still a long one that would go at the bottom of an EC planner page which I was able to cut short to fit in my boxes.
     So, five weeks from one kit – and I still have a few stickers left over! These are mostly the hydrate stickers that I never use, a few icon stickers for date nights and travelling and a few box headers. These stickers are still useful though and I'll be able to add them into the other similar coloured spreads!
     Okay, so that's how I get the most out of sticker kits. If I really needed to, I could use fewer stickers and get another few weeks out of a single kit. Fellow planner nerds out there, how do you get the most out of a sticker kit?